70th AIEST Conference 2020 in Cologne (Germany) - August 30 - September 2
The AIEST is calling for contributions for the upcoming conference in Cologne (Germany).
Stream 1: Designing tourism systems for a sustainable future
Stream 2: Trends in Sport Tourism, Recreation and Leisure Research
Stream 3: AIEST's Advances in Tourism Research - Perspectives of Actors, Institutions and Systems
Submission deadline: February 23, 2020
List of tourism-related Conferences for 2020
Shu-Hsiang (Ava) Chen, Associate Professor, Business School, Shantou University, China, and Aaron Tham, PhD, USC Business School, Australia, provide a list of tourism-related conferences for 2020. May this assist with your time and resource allocation and reach desired networks for teaching, research and professional development.
Click here for the list of tourism-related conferences for 2020.
Winners of the awards of the AIEST conference 2019 in Varna, Bulgaria
The BEST CONTRIBUTION AWARD goes to Sara Dolnicar, Emil Juvan, Bettina Grün for their paper "Reducing plate waste at hotel buffets".
First runner up for the Best Contribution Award is Yasuo Ohe for his paper "Issues of farmer's identity and efficiency of tourism-oriented diversification: revised from a perspective of behavioral economics".
The PETER KELLER AWARD for the best contribution uniting theory and practice goes to Lidija Lalicic, Irem Önder, Ko Koens, Jessika Weber for their paper "Serious gaming: an Innovative method to engage stakeholders with sustainable tourism planning".
First runner up for the Peter Keller Award is Jana Kučerová and Tomáš Gajdošík for their paper "Reengineering of local destination management organizations in Slovakia".
The PHD AWARD for the best PhD candidate contribution goes to Annika Aebli for her paper "The role of gamified technology in the tourist experience".
First runner up for the PhD Award was Sebastian Speer for his paper "Entrepreneurship as a catalyst for sustainability-oriented business models in tourism".
First Tourism Science Slam at ITB Berlin
ITB Berlin together with the AIEST (International Association of Scientific Experts in Tourism) and the DGT (Deutsche Gesellschaft für Tourismuswissenschaft) has offered the first Tourism Science Slam.
This Slam vividly conveys research results on air travel, hotel accommodation and beach holidays. Science Slams are easy to understand, very instructive, highly entertaining and they get to the point very quickly.
AIEST at 2nd UNWTO World Conference on Smart Destinations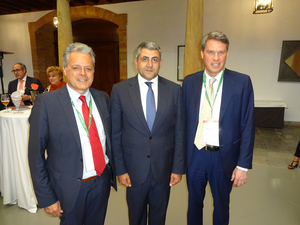 Prof. Dr. Harald Pechlaner (AIEST President) and Dr. Dirk Glaesser (AIEST member and Director Risk and Crisis Management at UNWTO World Tourism Organization) meet the UNWTO Secretary-General Zurab Pololikashwili at the UNWTO World Conference on Smart Destinations which was held June 25-27, 2018 in Oviedo (Spain).
New Book: The Economics of Tourism Destinations. Theory and Practice, 3th ed. Routledge.
Norbert Vanhove's book provides a succinct guide to the economic aspects of tourism for students and practitioners alike to decipher the methods of measurement of supply, demand, trends and impacts. Each chapter combines theory and practice and is integrated with international case studies. Combining macro and micro aspects of economics to the tourism destination, this is an invaluable resource for students learning about this subject and it is also aimed at tourism researchers and policy makers.
New Book: Changing Paradigms in Sustainable Mountain Tourism Research
Environmental, social and economic sustainability is an important topic of today's decision makers in tourism. This book, edited by Harald Pechlaner, Peter Keller, Sabine Pichler and Klaus Weiermair, provides profound insights into current concepts and challenges of sustainable tourism development – with particular regard to mountain destinations worldwide.